THE AUTOMATIC CALL ASSISTANT FOR REALTOR CALLS
Productive Call Assistant empowers realtors to manage their leads and clients faster, by doing the tedious work for you. Capture every detail by recording and transcribing calls, make in-call and hands-free voice-notes, and log everything to your CRM, automatically!
 Available on iOS + Android
BE PREPARED FOR EVERY CLIENT
See caller information, notes, and call history of your contacts, every time the phone rings, before you answer the call.
AUTOMATICALLY LOG CALLS
Realtors have a lot of information to retain. Stop relying on memory. Sync all your calls, and keep your CRM automatically updated.
DOCUMENT WHAT MATTERS
Record calls, get instant transcripts, and set up custom recording options for different contacts (Phone, CRM, and Unknown Callers).
TAKE HANDS-FREE NOTES
Dictate your notes, even during a call. Sync to your CRM, or add to your task list.
THE FASTEST WAY TO CREATE LEADS IN WISE AGENT
Lead entry is hard to do when you're on the go. With Productive's instant lead entry forms, you can ensure you have accurate contact information, buyer/seller criteria, and more.
HANDS-FREE NOTE TAKING
Realtors are on the go and need to be accessible to their clients. Hands-Free Note Taking allows you to summarize every conversation, by making post-call voice notes without needing to touch your phone. Vital details logged automatically to your CRM contacts.  #innovation
The most important part of calls is the content. Get the right tools you need to retain, retrieve, and utilize this information effortlessly.
CRM CALLER ID
Be prepared for every call with instant an instant view of your CRM notes, categories, and call history before you answer the call.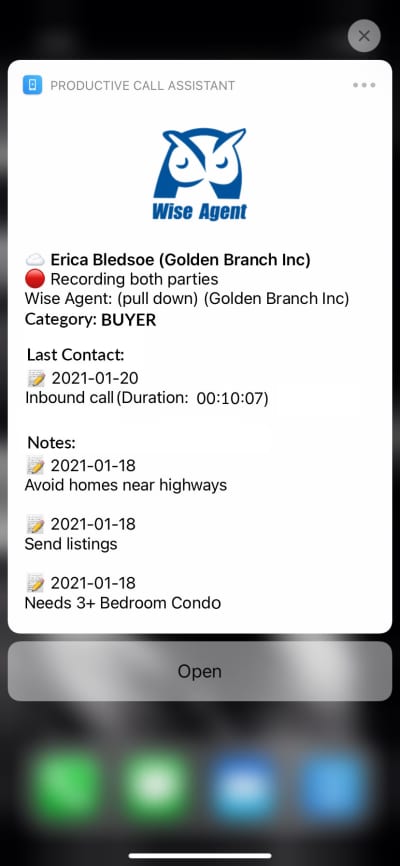 NOTE-TAKING 2.0
Productive makes note-taking effortless. With in-call voice-notes, you simply hold down the microphone button, speak, and release; the other party will not hear you. You can also use post-call summaries as your post-call assistant will prompt you to dictate the notes of your conversations, hands-free!
Productive is the first app that connects your mobile calls with your CRM, unleashing productivity never before seen by real estate professionals.
IN-CALL LEAD ENTRY
Instantly create leads in, during your calls. It's never been easier to capture the details of every lead, with in-call forms. Productive will even automatically insert the Caller ID name into your lead entry form.
INSTANT CRM ACCESS
Access the full functionality of your CRM during your calls. Manage client addresses, showings, and all other functions of your CRM which help you close deals.
"I have been using this product since they rolled out the integration. I must say – this is a handy app. Imagine placing and receiving a call and having the conversation transcribed/recorded and added AUTOMATICALLY to your notes within Wise Agent. This app does just that! Think of the time you save, not having to record notes of conversations – no more forgetting to update the contact notes. Get a call from a new lead, the same thing transcribed/recorded conversation – and you can add the lead from the app directly into Wise Agent. Such a great app! Thanks to Wise Agent for being ahead of the curve and getting this one for us!" – Ed Brittingham | Sterling Heights, MI
BECOME PRODUCTIVE TODAY
Request Access to Download Productive Today.