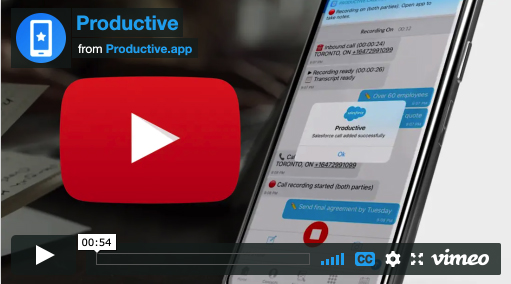 REMEMBER EVERY DETAIL
Productive helps you remember, organize, and utilize details from your calls to take your work to the next level.
Prepared for Every Call
See your personal or CRM notes the moment your phone rings so you can be ready to greet callers with confidence and perfect recall.
Playback
Recordings and transcriptions make it easy to remember conversations; allowing you to search conversations by key words, and saving details at the tap of a button.
Seamless Workflows
All the tools and information you need are brought into a single screen so can work effectively on your calls anytime, anywhere.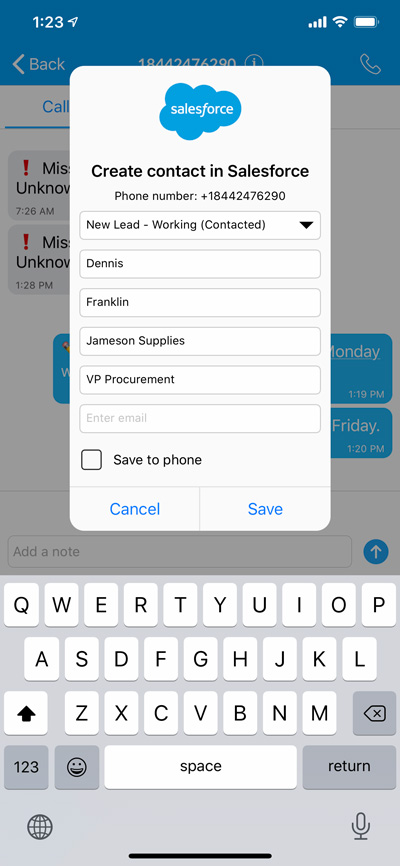 CONNECT YOUR MOBILE CALLS TO YOUR CRM.
Instant call preparation, automated note taking, and CRM sync. Every detail in your possesion, all the time.
SCREEN POP
Be in the know. See notes and details for every caller before you answer. Call history, deals discussed, and timelines. 
NOTES & TASK LISTS
Make in-call voice notes, create tasks, and automated call summaries. Then send them to your CRM, with a single tap. 
USE YOUR CRM
See CRM details for the caller without having to search or bring up another app. Create CRM leads in seconds.
"As a field seller in tech, I really love how Productive's suite of features makes me more efficient and my work less stressful.
With their Call Capture and Notification pop-up, I know I will be ready to take on whatever the day throws my way.
The addition of their automatic CRM logging has reduced my admin duties by at least an hour a day! Thank you Productive!"
"I'm a contractor, and I basically offer all sorts of creative services; kind of like a swiss army knife.
I really take advantage of the CRM screen pop, which shows me all the notes about specific clients when they call.
I work remotely too, so it's nice to be able to answer my calls, knowing I won't be confused as to what they are talking about. With Productive, I'm always in the know."
I love that my calendar, contacts, notes, and transcripts of calls are all in one place.
My favorite feature is the call transcript as I can review it after the call. I have been amazed at the quality of the transcription, even when someone is speaking with a thick accent.
It's also particularly helpful to read the transcript of a voicemail in real-time, not minutes after a call.