HAVE THE MOST PRODUCTIVE CALLS OF YOUR LIFE 
The productivity app for mobile calls that helps you recall details, save time, and close deals from anywhere.


REMEMBER EVERY DETAIL
Manage,  organize, and access the information you need for every call, the moment you want it.
Call Preparation
Retrieve private notes and view your full CRM automatically when calls arrive.  Be ready for your call from the first ring.
Retain & Recall
Stay present in your calls while Productive helps you remember the details by recording and transcribing the conversations you choose.
Work Rapidly
All the tools and information you need for your calls are brought into a single screen to eliminate app switching from your workflow. 
REQUEST ACCESS TO GET 30 DAYS OF PRODUCTIVE FREE
Individuals, enter your number below. For teams & enterprise inquiries, request a demo.
ONE-TOUCH WORKFLOW
All the tools you need for your calls, now in a single convenient app.
SCREEN POP
Don't panic when your phone rings. See notes and details for every caller before you answer, including unknown numbers.
NOTES & TASK LISTS
Create personal notes and tasks with text or voice, even during a live call. Send them to your CRM with just a tap. 
USE YOUR CRM
See CRM details for the caller without having to search or bring up another app. Create CRM leads in seconds. 
CALL CAPTURE
Record and transcribe (beta) calls you choose, with disclosures to keep you compliant. Or, record just yourself. 
CONFERENCE CALL DIAL-INS
Find dial-in numbers for Zoom, WebEx, and more, and join with a mobile call so you'll never miss a thing.
SCHEDULING
Schedule your next steps from your voice or text notes so you can create calendar invites without leaving the app.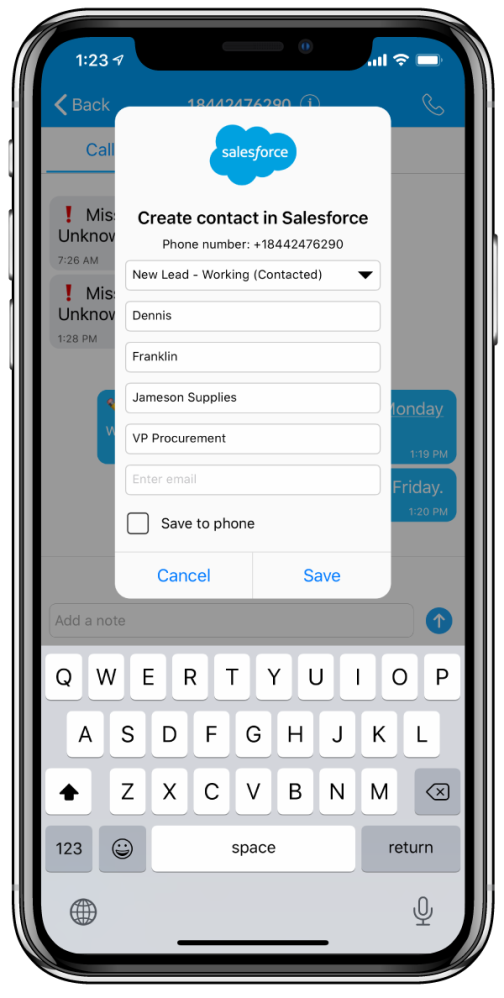 CONNECT YOUR MOBILE CALLS TO YOUR CRM.

"As a field seller in tech, I really love how Productive's suite of features makes me more efficient and my work less stressful.
With their Call Capture and Notification pop-up, I know I will be ready to take on whatever the day throws my way.
The addition of their automatic CRM logging has reduced my admin duties by at least an hour a day! Thank you Productive!"
"I'm a contractor, and I basically offer all sorts of creative services; kind of like a swiss army knife.
I really take advantage of the CRM screen pop, which shows me all the notes about specific clients when they call.
I work remotely too, so it's nice to be able to answer my calls, knowing I won't be confused as to what they are talking about. With Productive, I'm always in the know."
I love that my calendar, contacts, notes, and transcripts of calls are all in one place.
My favorite feature is the call transcript as I can review it after the call. I have been amazed at the quality of the transcription, even when someone is speaking with a thick accent.
It's also particularly helpful to read the transcript of a voicemail in real-time, not minutes after a call.